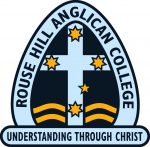 Important dates
Feb 5th 2018
Applications Close
About Rouse Hill Anglican College
Rouse Hill Anglican College in Sydney's North West is a co-educational school delivering excellence in education from Kindergarten to Year Twelve. Christian, caring and dynamic; the College emphasises high academic standards and the development of individual potential, providing its students with a school experience that is relevant to the present and which prepares them to become successful, contributing members and leaders of the community. The College, established in 2002, is situated on a 23 acre site in Rouse Hill, within the fast growing North West Sector of Sydney, and has an enrolment of approximately 1,300 students.
A Rouse Hill Anglican College education seeks to equip its students to accept responsibility, to take initiative and to show sensitivity to the needs of others. It offers them stimulation to develop intellectual curiosity, to solve problems, to think creatively and logically, and to work co-operatively. Academic programs provide opportunities for extension and enrichment, as well as recognition of significant and outstanding achievement. Extension activities and flexible progression enable students to advance more rapidly and to branch into areas of special interest, with the College boasting an imaginative, purposeful and enjoyable environment.
Rouse Hill Anglican College offers the BOSTES curriculum leading to the award of the Higher School Certificate. The College provides a comprehensive range of subjects that are relevant to university entrance requirements, as well as access to subjects that offer a vocational focus. Information and Communication Technologies are an important aspect of the curriculum, while Senior Extension courses are also part of the educational offering. Students may also have the opportunity of completing a subject at a local TAFE college to supplement their senior studies.
A number of scholarships of varying values will be offered to suitable candidates for entry into Year Seven and Eleven in 2019 based on academic achievement and performance in the ACER Scholarship test, to be conducted in February 2018. The Scholarship Program at Rouse Hill Anglican College provides students with the opportunity to undertake an enriched learning program, in an environment where achievement is encouraged and acknowledged. A balanced approach to school life prepares our students to become successful, contributing members and leaders of the community.  All scholarship students are required to participate in the co-curricular program.
Applications can be made through the College website at www.rhac.nsw.edu.au from October 2017 to midnight AEDST Monday, 5 February 2018.
Rouse Hill Anglican College
Worcester Rd, Rouse Hill, NSW, Australia