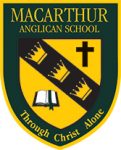 Scholarships Offered

This Scholarship is for the highest achieving Macarthur student in Year 6.,These Scholarships are the most prestigious Scholarships awarded and are full Tuition Fee Scholarships. Only one to two are awarded each year.,This Scholarship is awarded to a student from within or outside the School who demonstrates strong academic achievement, but more importantly demonstrates leadership skills and future leadership potential.,The Headmaster's Scholarships are awarded at various Tuition Fee discount levels and are based not only on the Scholarship Test but on other information that the School caters in order to determine the most suitable candidates.
Important dates
Mar 1st 2019
Scholarship Applications close
Mar 9th 2019
Scholarship Testing Day
Mar 16th 2019
Music Audition Day 1
Mar 19th 2019
Music Audition Day 2
About Macarthur Anglican School
Established in 1984, Macarthur is a co-educational Anglican day school located on the rural outskirts of Sydney near Camden that has a proud history of educating girls and boys of all faiths from Transition to Year 12. With a positive community that actively encourages students to be full of life and hope, extensive grounds and enviable purpose-built facilities developed to cater for a broad range of academic interests and age groups, the School offers each student the opportunity to strive for excellence in all their endeavours.
Macarthur provides an extensive array of co-curricular and sporting opportunities, while music and performance are also an integral part of the School. It also seeks to educate its students to be not only positive and contributing citizens of Australia, but people whose horizons are lifted beyond our shores, to form an international outlook as well as an appreciation of other cultures. To help achieve these aims, students have opportunities to experience life in cultures different to their own through international study tours in Music, Science, History and Languages, international cultural tours, student exchanges with international link schools and international outreach programs. The Macarthur graduate is a global citizen equipped with the leadership skills to take his or her place in the world.
Macarthur Anglican School provides a number of Academic and Music Scholarships to students entering Years 7, 9 and 11 including: the Foundation Scholarship awarded to the Year 6 Macarthur student with the best academic record; the School Council Scholarships, one to three scholarships awarded each year to students commencing Year 7 who are academically or musically gifted; The Warren Scholarship for Student Leadership, awarded to a student entering Year 11 who demonstrates leadership skills and future leadership potential; as well as a number of Headmaster's Scholarships – Academic and Music.
All applicants for Scholarships will have their application reviewed by the Dean of Studies. The Scholarship Examination will be used as a guide for selection with general academic record, including recent school reports, psychometric reports (if available), NAPLAN and national testing results (if applicable) as well as an interview also taken into consideration. Applicants who are deemed to have achieved consistent excellence in their academic studies will be recommended to the Headmaster for a Scholarship.
In keeping with the School's motto, 'Enter to Learn, Go Out to Serve' scholarship students will be expected to: maintain an excellent academic record; participate in at least two co-curricular activities per year (apart from Year 12); undertake at least two areas of school service throughout the year; undertake acts of service as directed by the Headmaster or his representative; maintain a positive attitude towards the School, reflected in dress, bearing and behaviour.
Applications close
Friday 1 March 2019
Scholarship Testing Day
Saturday 9 March 2019
Music Auditions
Saturday 16 March 2019 and Tuesday 19 March 2019
Macarthur Anglican School
605 Cobbitty Rd, Cobbitty, NSW, Australia