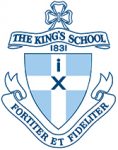 Important dates
Sep 2nd 2019
2021 Applications Open:
Feb 7th 2020
2021 Applications Close:
Feb 16th 2020
2021 Scholarship Examination Date for Day Students:
Feb 23rd 2020
2021 Scholarship Examination Date for Boarding Students:
About The King's School
Founded in 1831 by command of King William IV of England, The King's School, Australia's oldest independent school, is an international leader in boys' education and residential care.
Situated on 300 acres of beautiful parkland in the demographic centre of Sydney, the School provides a happy, active lifestyle for its students, offering the best of both rural and urban environments.
King's is in high demand because it offers academic excellence with strong character development, an ethos encapsulated in its mission statement: The King's School is a Christian community that seeks to make an outstanding impact for the good of society through its students and by the quality of its teaching and leadership in education. Crown Princes, leaders of political parties, authors, actors, sportsman, film directors, leaders in law, medicine and in a wide range of other professions have all been educated at King's.
With a proud record of achievement, the School aims to enable students to achieve a standard of literacy and numeracy comparable with the best national and international standards, by providing a curriculum which, in all disciplines, is rigorous, contemporary and innovative. The School is regularly ranked in the top 50 schools in the State based on HSC results achieved by its students.
King's offers students an abundance of leadership opportunities, including a unique four year training course in leadership undertaken in the Senior School, as well as gifted and talented programs and a Transition Year to ease boys into Senior School. There is also a myriad of extra-curricular offerings  including cadets, debating, choir, Mock Trial, bands, the Duke of Edinburgh's Award Scheme, and some 20 other co-curricular clubs and activities.
A state-of-the-art Science Centre features 18 teaching laboratories and engages with industry and research graduates from Sydney University, to enhance learning experiences of King's students.
The King's School offer a number of Scholarships, primarily to boys entering Year 7, that are dependent on high-range academic results and demonstrated leadership potential in the creative and performing arts, sport and the community. Short listed candidates will be chosen from those with test results in the top one per cent (Edutest Pty Ltd conducts testing on site at the School), with these candidates invited to an interview to further their application. They will also be assessed on their ability to contribute to the co-curricular program of the School. Bursaries are also awarded, largely to country applicants for boarding places, and are means tested.
Applications for 2021 entry can be found online through the School's website at www.kings.edu.au, with applications open until Friday, 7 February 2020. Testing will be conducted on Sunday, 16 February 2020 for day students and Sunday, 23 February 2020 for boarding students.