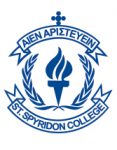 Important dates
Sep 29th 2020
2022 Applications Open:
Feb 8th 2021
2022 Applications Close:
Feb 27th 2021
2022 Scholarship Examination Date:
About St Spyridon College
St Spyridon College is a co-educational Greek Orthodox school of around 800 students from Kindergarten to Year 12. St Spyridon College educates students to take their place in a rapidly changing world with confidence and success. It develops the whole person: strong in mind, healthy in body, endowed with love, faith and compassion, able to make a conscious and positive contribution to the well-being of the broader community, our nation and our planet.
Established in 1983, St Spyridon College is based over two campuses at Kingsford and Maroubra in Sydney's Eastern Suburbs. It offers technology-rich environments and purpose-built facilities for Visual Arts, Hospitality, Information Communications and Technology (ICT), Woodwork, the Sciences and Music. The Sports and Performing Arts Centre (SPACe) provides outstanding resources for sports, music, drama, public speaking and group activities.
Academic performance within the College is strong. Over 90 per cent of its Year 12 students continue to tertiary studies on completion of the HSC. To maximise HSC and ATAR (Australian Tertiary Admission Rank) results, the College offers scholarships, as well as special programs such as the HSC Elevate and Preparing for the Preliminary and Foundation HSC courses. An excellent range of subjects provides access to three learning pathways: from school to University, from school to TAFE, from school to work. There is also an extensive co-curricular program incorporating sports, the performing, spoken and visual arts as well as field trips to Greece and the United States of America. As a member of the Independent Sporting Association (ISA), St Spyridon offers students opportunities to compete at an elite sporting level. We are proud that our students have represented the ISA, the State and Australia in futsal, basketball, netball, gymnastics and swimming.
Building the leadership capacity of every student is the central aim of the College's Pastoral Care program. The four pillars of modern education -learning to know, learning to do, learning to be, learning to live together – are an inspiration for this program. St Spyridon believes that the essential cornerstone for a fulfilling life and the ultimate purpose of all its endeavours is for students to learn to love, to act with compassion and respect for the dignity of others. Community action takes students from hospices to soup-kitchens. They develop sensitivity, conscience and a sense of responsibility for others. They engage with global issues and contribute enthusiastically to environmental and humanitarian aid programs. They participate in state, national and international youth forums, and contribute to debate on current issues.
The College is offering three categories of scholarships: ACER Scholarship awarded to the top Year 6 applicant entering Year 7 in 2021 for a duration of four years from Year 7 to 10; ACER Scholarship for the top two Year 10 applicants entering Year 11 in 2021 for a duration of two years from Year 11 to 12; University Scholarship, open to all existing St Spyridon students who achieve an ATAR of 97.0 or above.