Arden is a co-educational, non-selective Anglican school located 25 kilometres from Sydney's CBD. With a proud history spanning 100 years, Arden is committed to delivering an exceptional education to students from pre-school to Year 12. Students thrive in a caring Christian environment where they are nurtured and challenged, both academically and beyond the classroom.
A SCHOOL AHEAD OF ITS TIME
From its beginnings in 1922 as a Presbyterian Ladies College, Arden has been a school ahead of its time. Originally owned by the Presbyterian church, in 1929 the school was sold to Emily Gurney who re-named it Arden as its location in the leafy suburb of Beacroft reminded her of 'The Forest of Arden' in England.
Emily Gurney believed that education was far more than reading, writing and arithmetic. She instilled the importance of service learning and excursions that taught students about the wider community and real life. Arden's Director of Advancement, Mrs. Jo Hutchens comments, "Emily encouraged a sense of community which is often described as The Spirit of Arden. The gates of Arden are open to parents to participate in school life and it brings so much benefit – we love it and it helps make us who we are".
LEARNING & THRIVING TOGETHER
In 1946 the school was sold to the Anglican Church, and in 1976 Arden became fully co-educational. To this day, fostering an authentic and realistic environment where boys and girls grow together in understanding, friendship and character remains a key focus at Arden.
As well as being taught in Arden's pastoral programs, the concept of healthy and respectful relationships underpins Arden's culture of community.
Mrs Hutchens comments, "Here, all students are empowered to learn and grow together in an environment where their God-given gifts are nurtured and encouraged. Our students learn together in a real and authentic co-educational environment where they're taught to act thoughtfully and respectfully towards each other."
A CENTURY OF EDUCATION AT ARDEN
2022 will mark 100 years of educational excellence at Arden. This impressive and significant milestone offers a time to celebrate and connect with the wider Arden community; students, parents and staff – both past and present.
Mrs. Hutchens's comments, "We're so excited to celebrate this milestone. We've got some wonderful events planned, starting with a thanksgiving service at the beginning of the year with the entire school community."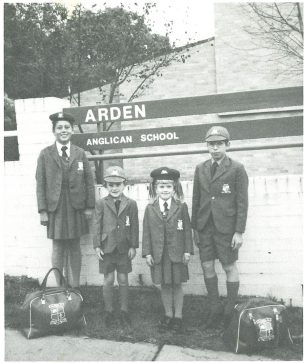 Above: Students outside Arden Anglican School circa 1983
Arden's alumni play a vital role in ensuring the school's thriving culture of community and service flourishes. The centenary celebrations present an opportunity to connect with past students and foster their continued engagement with the school. Mrs. Hutchens's explains, "Our alumni are very important to us. We want them to step on to the campus grounds and be involved in what we're doing; both in the centenary year and always."
Centenary celebrations will include a garden party for the alumni and the official opening of the school's Heritage Centre located in one of the school's many historical buildings.
A time capsule will also be opened – a snap shot in time from Arden's 75th year celebrations in 1997.
Arden's Archivist Morwenna Dixon, herself an alumna of the school, was in Year 6 at the time and remembers the excitement around the time capsule well, "We sealed the capsule on Founder's Day at a special assembly. It's going to be incredible to open it up again – I've completely forgotten what is in there now!' Morwenna says.
THE SPIRIT OF ARDEN
In 2003 Arden opened its secondary campus in Epping, completing its journey to becoming a vibrant fully co-educational school for Pre-school to Year 12 students. The Spirit of Arden is evident across both the Junior and Senior campuses. It is an intangible, yet very real energy that weaves the two campuses closely together – a genuine shared sense of love, caring and community.
Alongside the variety of events and activities planned, to mark its centenary Arden is publishing a commemorative book. The publication will showcase one hundred people who've made a significant contribution to the school over its history. Aptly titled The Spirit of Arden, this inspirational publication celebrates the people whose impact has made Arden the school it is today.
HONOUR THE PAST, CREATE THE FUTURE
Arden's upcoming centenary is not only a time to celebrate, but also a time to pause and reflect on what the future holds. Mrs. Hutchens explains "We're on a journey of continuous improvement and innovation. Covid fast tracked this particularly in the area of technology, but what a centenary does is give you the ability to stop, reflect and build new plans from there. For us, it's an opportunity to have an authentic look and consider the future – but with a strong connection to our foundations."
Fittingly, to mark the start of its 100th year Arden will welcome a new Principal. Effective January 2022, Justin Beckett will become Arden's 15th Principal.
Justin is currently the Principal of Trinity Anglican College in Albury, a co-educational school of 1,200 students and 130 staff. He has led the school through tremendous cultural and strategic development, restructure, and innovation. As the new Principal of Arden, Justin aims to furnish our young people with a 'toolkit for life'; with the courage, character and skills to create lifelong opportunities, and to be purposeful leaders and contributors to the world. Justin's appointment represents an exciting new chapter in our history.
From its humble beginnings 100 years ago, Arden has grown to a roll of 943 students and 120 teaching and non-teaching staff. Its extensive, state of the art facilities are as impressive as the education it provides.
And whilst much has changed, what endures is a culture where students are well known, well cared for and well taught; a culture with people and community at its heart.
Find out more about the opportunities at Arden.